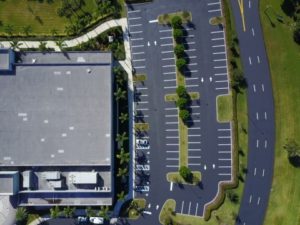 With its rich, dark color, an asphalt pavement can serve as the perfect background for attractive, highly visible asphalt striping and markings. However, over time, painted stripes and markings can fade or be damaged. This can hurt your company's curb appeal, but it can also make your parking lot less safe. If it is time to refresh your parking lot markings, you may be wondering whether the existing paint can be eradicated. You will be happy to learn that striping contractors know several ways to remove painted markings from asphalt pavements.
Why Would I Want to Remove My Existing Asphalt Striping?
There are various reasons why you might want to completely eradicate your existing markings. Perhaps you want to alter your lot striping to change the parking angle so that you can accommodate more cars, or you have decided that a different angle will be easier for your customers to position their vehicles. Maybe you need to bring your pavement striping and marking into full compliance with the ADA or local codes. Perhaps you want to eradicate markings that are no longer relevant; for example, drivers can now travel in either direction down an access drive. Maybe you just want to ensure that ghost markings do not appear that could confuse drivers or pedestrians. Whatever your reasons, the contractor providing your parking lot painting services can recommend the best way to remove or cover the markings on your specific pavement.
What Methods Are Available That Will Remove or Cover Asphalt Striping and Markings?
Parking lot maintenance contractors typically use one of six different methods to eradicate the existing pavement paint. The type of paint used to apply your current markings, the size of your parking lot, and the importance of your pavement's aesthetics can all affect the contractor's recommendation.
1. Wire brushes have been used for many decades to scrub away painted markings on pavements. Since this method is labor-intensive and slow, it is best reserved for removing one or two stencils or other small-scale operations.
2. Depending on the type of paint, your parking lot maintenance contractor may recommend using a solvent for removal. Some solvents, however, are potentially harmful to the environment, and no solvents should ever be used by anyone who lacks the training and expertise to handle them safely.
3. Soda blasting is a relatively new method that is safe for the environment and inflicts little or no damage to the pavement. Although similar to sandblasting, soda blasting uses food-grade, water-soluble soda instead of sand.
4. Using black paint to obscure the markings is a fast, economical method that is also one of the oldest methods used by parking lot maintenance contractors. Today, most contractors apply seal coating over the paint to ensure complete coverage, better aesthetics, and a longer life for the black paint.
5. Water blasters, which are similar to pressure washers, can peel the paint away without harming the pavement. However, you want to make sure that your contractor is highly experienced in this method. Furthermore, water blasters are not necessarily the best method for eradicating your lot striping.
6. The most common technique is to use a scarifier, a walk-behind machine with rotating cutters that scratch off the markings and stripes. Although highly effective and fast, a scarifier can remove a minute amount of the pavement, leaving the area with a slightly textured finish.
At Asphalt Care Services, we are experts at the removal of parking lot striping and markings. We will evaluate your pavement and discuss your preferences to recommend the best method for you. We also offer asphalt sealcoating, parking lot striping, asphalt repairs, thermoplastic line striping, asphalt paving, bumper blocks, speed bumps, and traffic signage. We are known throughout the Treasure Coast region for consistently delivering superior results and outstanding customer service in a professional, honest manner. We offer free quotes, so submit our online request form, send an email to [email protected], or call 772-888-2840 or 561-855-1336.
https://asphaltcareservices.com/wp-content/uploads/2021/12/photo-5.jpeg
360
480
dev12
https://asphaltcareservices.com/wp-content/uploads/2023/02/Asphalt-Final-logo.png
dev12
2021-12-25 12:39:36
2023-04-07 18:58:36
Can Asphalt Striping Be Removed?