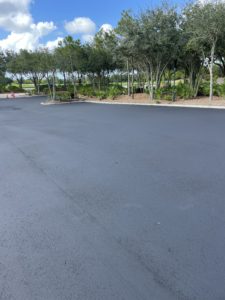 Whether you are providing parking for tenants, employees, shoppers, clients, patients, or diners, your lot is critical to your success. When your parking lot needs sealcoating, you may think that you may as well close your business for the day. However, experienced contractors know how to minimize disruptions and downtime for their clients when working on a parking lot.
Why Does My Parking Lot Need Sealcoating?
Asphalt parking lot sealcoating can often double the useful life of your pavement. Naturally, seal coating alone will not be sufficient, but it is highly effective if you also take other important steps. These steps include the timely repair of pavement damage, the enforcement of weight limits, and the removal of automotive fluids. A seal coat blocks ultraviolet radiation to help prevent brittleness, and it also helps prevent automotive fluids from softening the asphalt. Seal coating also enhances traction, refreshes the color of the pavement, and makes the surface appear smoother and more even.
How Often Should I Be Sealcoating My Parking Lot?
The number of vehicles using your parking lot over the course of an average day is one factor that can influence your seal coating frequency. How long vehicles tend to stay parked in your lot, the weights of the vehicles, and the age of your pavement are also factors. However, on average, Treasure Coast asphalt sealcoating typically has a life expectancy of about two years. If you have an exceptionally busy parking lot, you might need to refresh the seal coat in high-wear areas. Conversely, if your parking lot sees only light use, you might be able to go three years or more between seal coating.
How Will Treasure Coast Asphalt Contractors Minimize Disruptions to My Business?
Typically, asphalt seal coating contractors will work with you to determine the best time to sealcoat your parking lot. For example, if your business is only open on weekdays, your contractor might be able to schedule your job for a weekend. If your parking lot is large enough to have multiple exits and entrances, your contractor may sealcoat it in sections. With this approach, contractors close, sealcoat, and reopen sections individually. One or more sections of your parking lot will be available at all times.
Are There Ways I Can Help Minimize Disruptions to My Business When My Parking Lot Needs Sealcoating?
Although you should address this question to your Treasure Coast asphalt sealcoating contractor, there are a few things you can do that might help.
1. Shut down your sprinkler system at least 24 hours before your contractor will arrive. Leave it shut down for at least 24 hours after your contractor finishes sealcoating your parking lot.
2. Sweep your parking lot to remove grass clippings, trash, and other debris. Your contractor will perform a thorough cleaning upon arrival, but your efforts could speed up the process.
3. Try to remove any obstacles in your parking lot. For example, if there are abandoned cars, pallets, or advertising signs, remove them temporarily.
4. Make sure that your employees or tenants know when you will be sealcoating your parking lot. Remind them that they will need to remove their vehicles from the work area, and let them know where they can park during the procedure.
5. Your contractor cannot apply asphalt seal coating over open breaks in the pavement. If there are significant cracks in your pavement, ask your contractor about repairing them the week before the sealcoat application.
Asphalt Care Services is a Treasure Coast asphalt sealcoating company. We also offer a wide range of other paving services, including asphalt repairs, thermoplastic line striping, bumper blocks, residential asphalt paving, speed bumps, parking lot striping, asphalt crack repairs, traffic signage, and parking lot maintenance. We are known for delivering exceptional workmanship and superior service on every job. You can request a free quote by emailing [email protected], calling 772-888-2840, or completing our online form.
https://asphaltcareservices.com/wp-content/uploads/2022/09/Earl-Sept-ONE-scaled.jpeg
2560
1920
dev12
https://asphaltcareservices.com/wp-content/uploads/2023/02/Asphalt-Final-logo.png
dev12
2022-09-26 17:28:43
2023-04-07 15:02:55
What Can I Expect If I Close My Business for Sealcoating